Hair Transplant Cost in Vizag, India
Hair Transplant Cost in India
A hair transplant is an advanced method of restoring hair in men and women, the procedure requires an ideal plan, especially in terms of cost. The cost of the procedure depends on a variety of factors, more calculated depending on the hair grafts and the clinic one visits. It is not a surprise that patients run after clinics with low charges; the only thing that they desire is eliminating the bald patches once and for all.
The hair restoration techniques may look so simple to some patients forgetting the side-effects involved with them when performed by inexperienced surgeons and technicians in the lower charging clinics. A top-notch centre like Dr. VJs Cosmetic Surgery & Hair Transplantation centre provides ideal hair restoration services at an amiable cost. The experts at the centre focus at generating natural and desirable results in every patient regardless of the type and extent of hair fall faced.
What Influences the Hair Transplant Cost in Visakhapatnam
The following are observed in the leading centre/s in India
The technique to be used
The number of hair grafts to be extracted and implanted
The kind of procedure, i.e. single session, re-surgery, or a multiple session.
Presence of any complication such as scalp infections, reactions to anaesthesia, and predicted happenings
Whether the procedure will require body hair such as collecting hair from the beards, legs, or the chest
Whether it is a body hair transplant, such as correcting eyebrows, removing patches from the beards and so on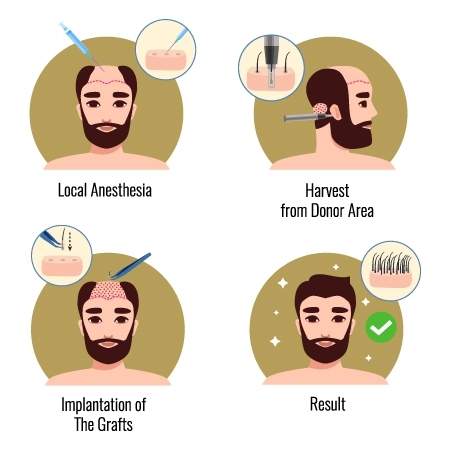 The Estimated Hair Transplant Cost in Andhra Pradesh
India is one of the most attractive countries in terms of medical care and treatment. At least, you will get medical attention at half a price you will have to pay in countries like USA, Australia, and UK. India also provides a variety of choices when it comes to treatment, though one will be vigilant about the clinic he visits. Let's look at the plan in India (hair transplant)
| Hair transplant surgery | No. of hair grafts | Lowest and highest cost |
| --- | --- | --- |
| FUT procedure | 900 – 1400 & above | RS. 25000 – 55000 & above |
| FUE procedure | 1000- 2000 & above | RS. 60000- 100000 & above |
| Body Hair transplant | 1000 & above | RS. 50000 -1 lakh |
| Re-surgery | 1000 & above | RS. 52000 & above |
| Mega Session | 2400 & above | RS. 60000 & above |
| Giga Session (FUT/FUE) | 4200 & above | RS. 70000 & above |
| Consultation | 25Scalp Examination | Free or otherwise |
Why Choose Dr. Vjs Cosmetic Surgery and Hair Transplantation Centre?
Hair transplant is not a mere procedure for a one day plan. It requires consultation and expertise in diagnosing and devising the best approach to a patient's type of hair loss. The experts at VJs clinic assures you of;
The centre provides the latest and standardized procedures
The best and natural results after the procedures
Friendly and convenient environment with staff
Best approach to patients and best post-operative care and treatment
Supportive team and professionals in every treatment